The First Baptist Church of Plymouth celebrated its 200th Anniversary throughout June of 2009! Come join us for our third century in Plymouth.
The year 1809 was full of news…
Thomas Jefferson's second term of office ended, and James Madison's first term of office began
The Plymouth Lighthouse on the Gurnet turned 40 years old
Hedge House was constructed in Plymouth
Plymouth resident Adonirum Judson, Jr. attended Andover Theological Seminary
The 'Engagement Tree' was planted on Cole's Hill
The First Baptist Church of Plymouth was founded on June 9!June 9, 2009 was the 200th anniversary of the founding of the First Baptist Church of Plymouth!
As part of our celebration, we wanted to honor Adoniram Judson, Jr. and his mission work, so the Sunday School children went to Plymouth's Burial Hill on Sunday, May 24, where the memorial to Judson and his family is located.  The students and teachers cut grass, raked leaves, removed branches, planted flowers and made the memorial look grand!
Saturday, June 13 we held a reception celebrating 200 years of the life of our church; the guest speaker was the Rev. Dr. Peter J. Gomes, who talked about the history and the future of our church.  Special music was supplied by our own choir and Ingemar Olsson from Sweden, who is one of Europe's leading Christian singers.
On Sunday, June 14 during the 10:30am service, Jeff led a celebratory service that included words from the Rev. Bob Overstreet and the Rev. Bruce Greer (both previous pastors of our congregation), with special music from our choir and Ingemar.
During the anniversary weekend, representatives from The American Baptist Churches of Massachusetts (TABCOM) presented our church with special certificates from TABCOM and the American Baptist Historical Society, and MA State Senate President, Senator Therese Murray presented us with a citation acknowledging our long history.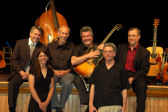 On Saturday, June 27, the Bluegrass Gospel Project were back for another one of their wonderful concerts; what a wonderful way to end our anniversary month!
Of course, during July and August, we celebrated the 50th year of our local mission of operating the South Pond Chapel; we offered another season of music for the community.
Take a moment to enjoy these two videos of our 200th year celebration: