Visit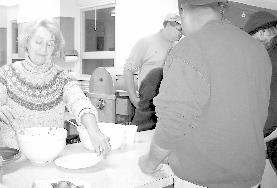 Plymouth Taskforce for the Homeless for the latest news about this community service…
The First Baptist Church of Plymouth has been proud to host the Nights of Hospitality program during February School Vacation Week since 2007!
In 2010 we added a second week of hosting and this 2014-2015 we are hosting  many more!
Helen Evans serves dinner on a cold night
Overnights of Hospitality
The Plymouth Task Force for the Homeless runs an emergency shelter program in town during the colder months of the year.  Currently, there are houses of worship that provide shelter and warm meals on a rotating basis to homeless men in the area from November through the end of March.
Last year was tough.
Winter 2014-15 could be tougher.
Once again for this fall, many weeks of emergency shelter access will be available for those that needed it.
Our church once again will house the homeless men of Plymouth as a host church for the Plymouth Task Force for the Homeless.  We will open our doors for two weeks as an "emergency shelter" for the program, and we hosted two other weeks because of the limited number of churches participating in the program.
The churches serving as temporary shelters this winter season include Church of the Pilgrimage at 8 Town Square, Zion Evangelical Lutheran Church at 386 Court Street, Christ Church at 149 Court Street, and our own church.
As in the past, we asked for volunteers to be overnight chaperones, to cook, or to serve a meal to the homeless on those days; this was an opportunity for us as a church to open our doors to those who desperately need help.
Those that cannot actively help by volunteering for an overnight, instead may decide to donate single-serve juices and breakfast bars for the men; people who are able may come to the church during a day during the week to clean and prepare the kitchen and Judson Hall; they could donate money to the Plymouth Task Force for the Homeless; and they all must pray for a mild winter.
North Plymouth Shelter
In addition, the Task Force for the Homeless also runs a "sober house" in North Plymouth for homeless men who abstain from drugs and alcohol.  The house is currently leased, but the organization hopes to be able to purchase the house in the future to ensure its permanence.  Fundraising efforts are expected to begin soon.
Volunteer or Donate
To volunteer, please contact Connie Melahoures at 508-746-3805.  To contribute, make checks payable to Task Force for the Homeless, and mail to:
Task Force for the Homeless
P.O. Box 3896
Plymouth, MA 02361
508-746-3805
Connie Melahoures